✨Making Christmas fun and exciting with the new DIY Christmas charm bracelet advent calendar!✨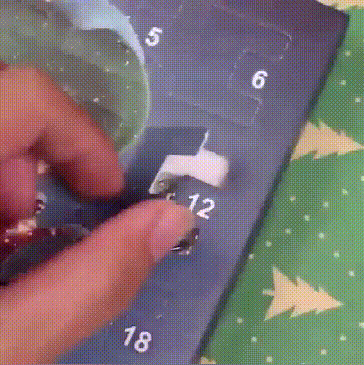 ✨This Christmas bracelet set, including an advent calendar, Beginning on December 1st, the bracelet will evolve from a simple chain to a more stylish look. Each of the calendar's 24 windows contains a unique Christmas charm. Slide the charm out of the everyday slot and onto the bracelet.✨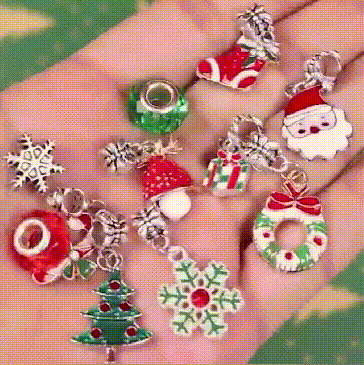 ✨Inspiring Your Imaginative and Artistic Side✨
With this DIY Christmas charm bracelet advent calendar, your kids may enhance their physical ability and imagination while creating personalized jewelry. Buy DIY Christmas charm bracelet advent calendar today!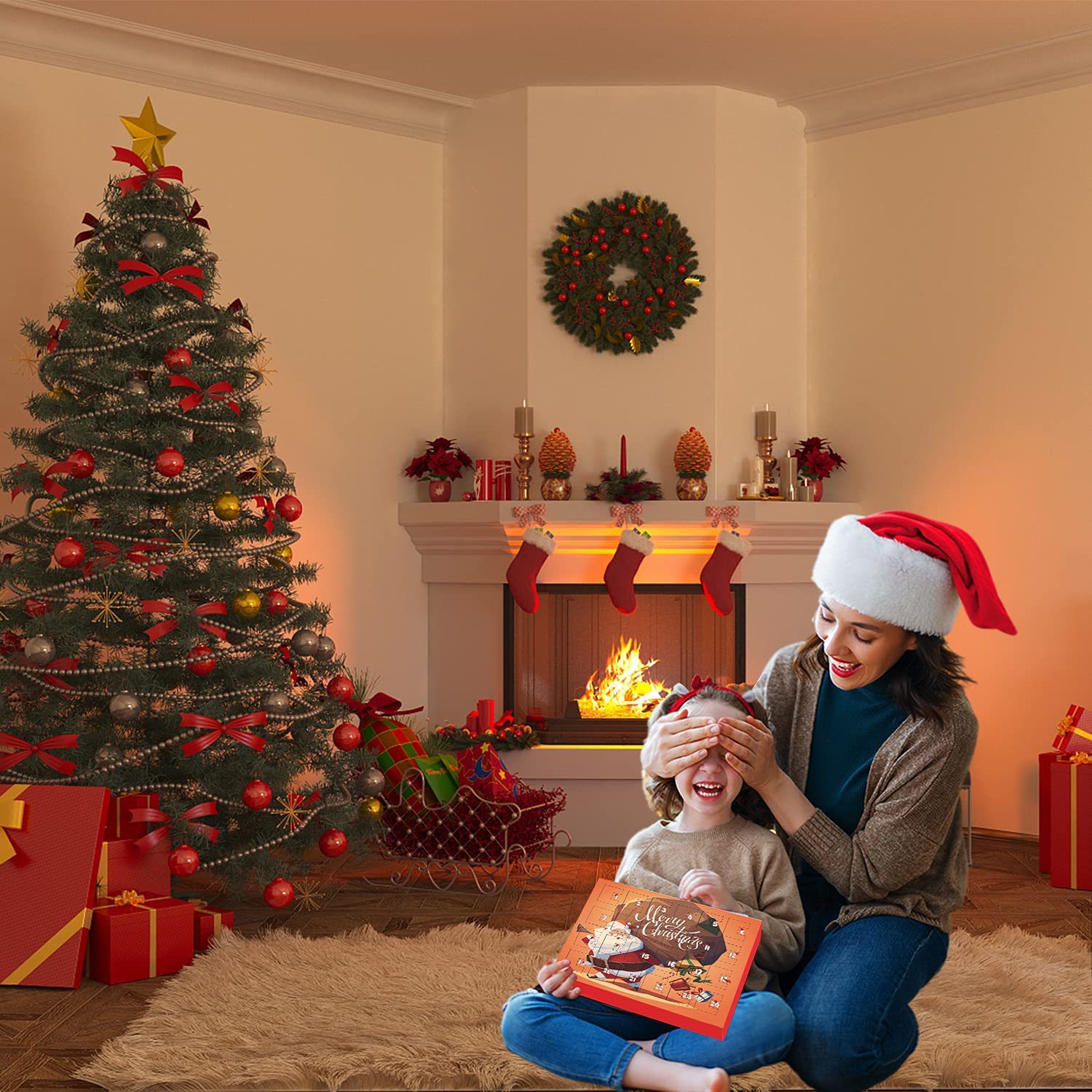 🎁【Perfect Christmas Gift】🎁
The Advent Calender as a gift for yourself or you loved which can let you to looking forward to open a door each day, it also means that Christmas is coming, which is full of nervous and joy.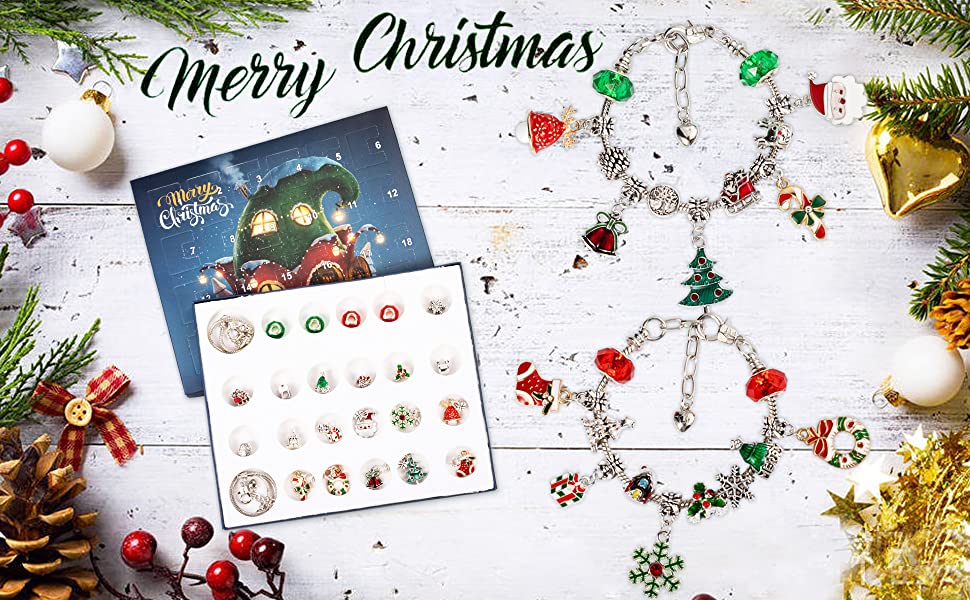 ✨Make Christmas Exciting✨
For the twenty-four days of December, kids can look forward to a new surprise with the help of an advent calendar. Your children will have 24 days' worth of arts and crafts projects to look forward to in the Christmas jewelry advent calendar. It's the perfect DIY gift for Christmas!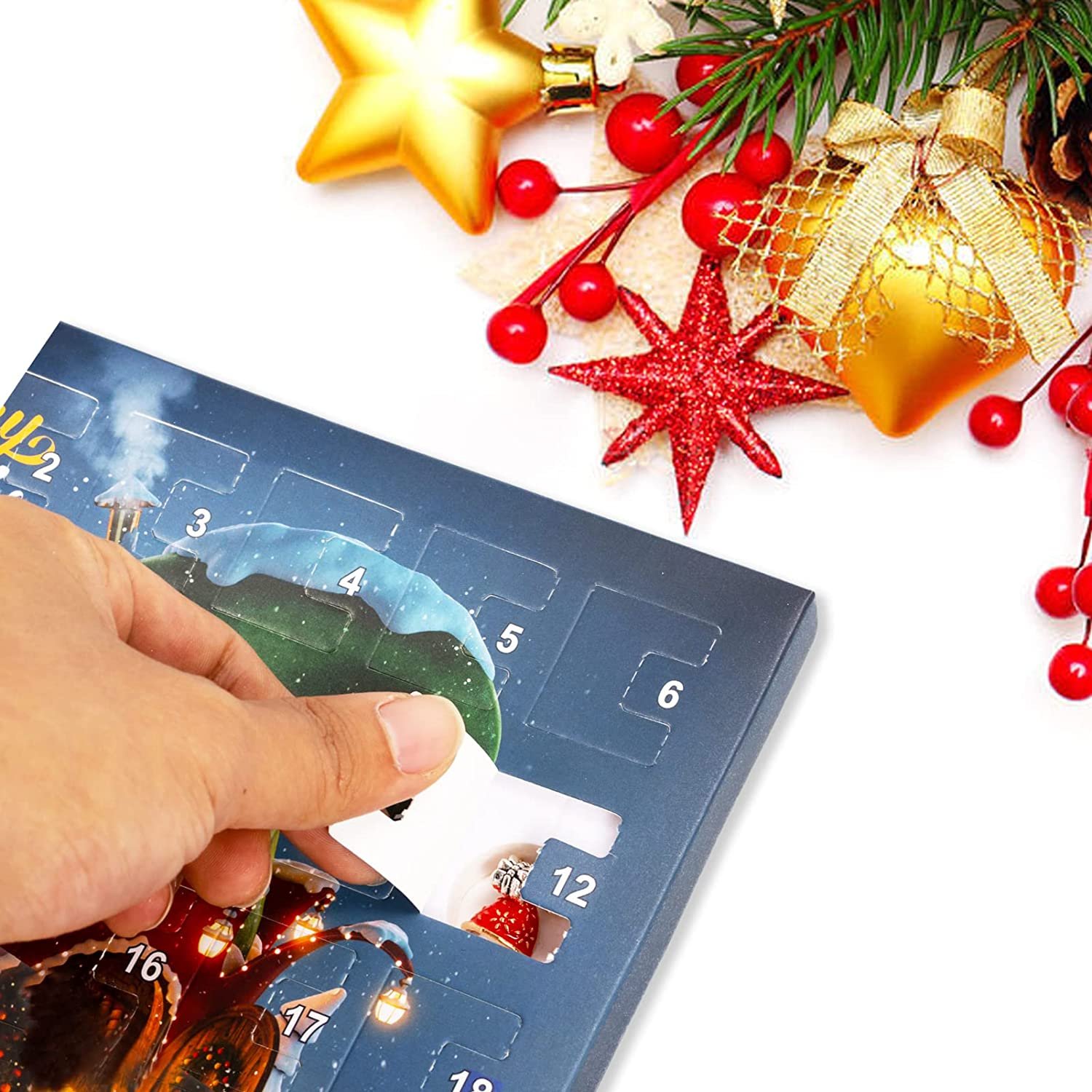 ✨Easy installation of Christmas atmosphere✨
Unscrew to remove the end cap, After stringing in the beads, simply screw back the end cap tightly. No Tool, No Glue, No Mess.The beads can be interchanged easily without tools.
✨DIY Xmas bracelet by yourself✨
A great choice for girls who love DIY jewelry. It can be an entertaining party craft for girls. Mix and match beads and dangles to personalize and create a fashion statement bracelet for Xmas.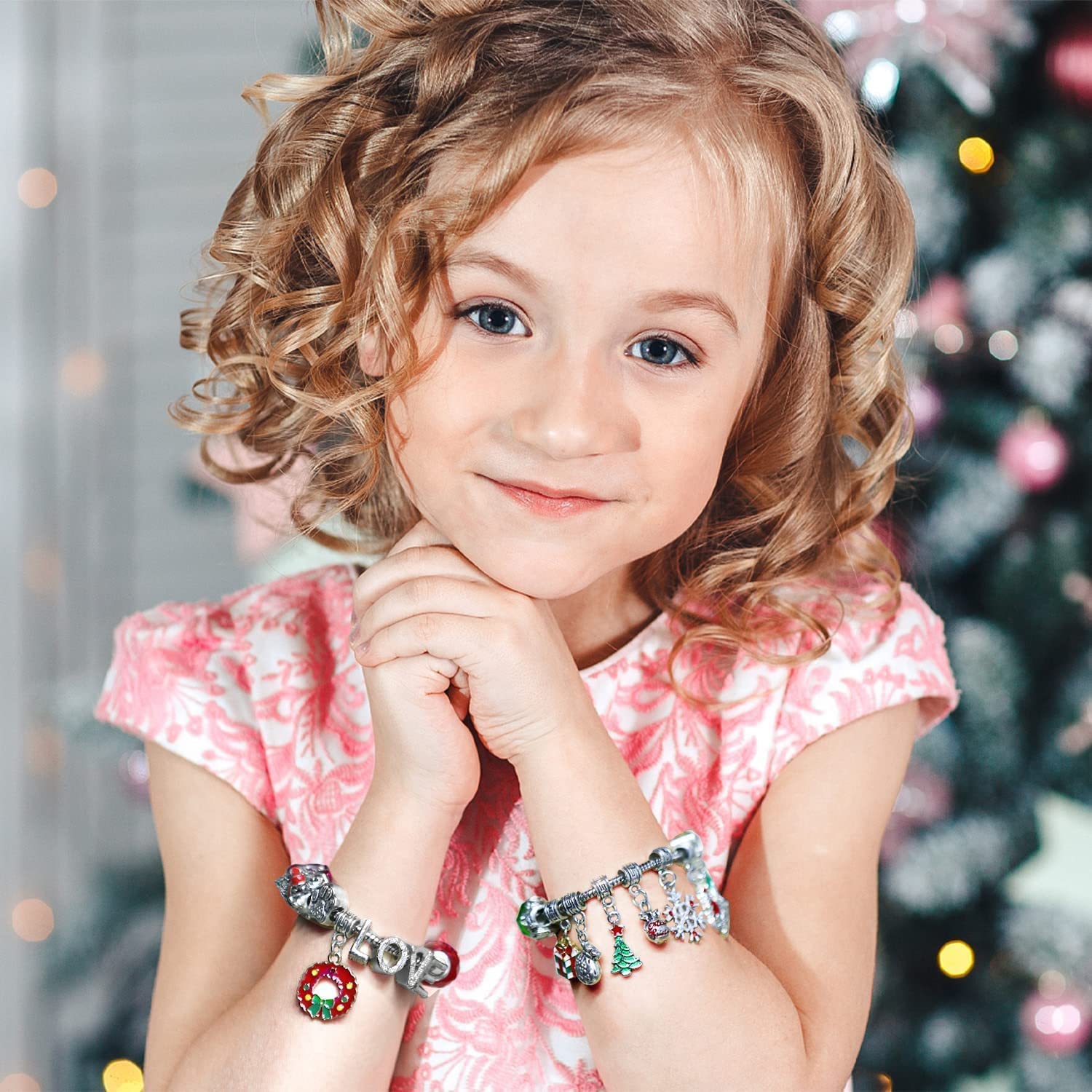 ✨WHAT YOU WILL GET?✨
Well made of non-toxic and environmental alloy, safe to kids, resistant, not easy to fade
Bracelet length is 6.3". Ideal for girls. Length can be adjusted. to 8.47'', Ideal for adults.
The adorable charms are all the theme of Christmas like Santa Claus, Christmas tree, Santa hat, gift box, stocking, snowflake, wreath, candy cane, etc.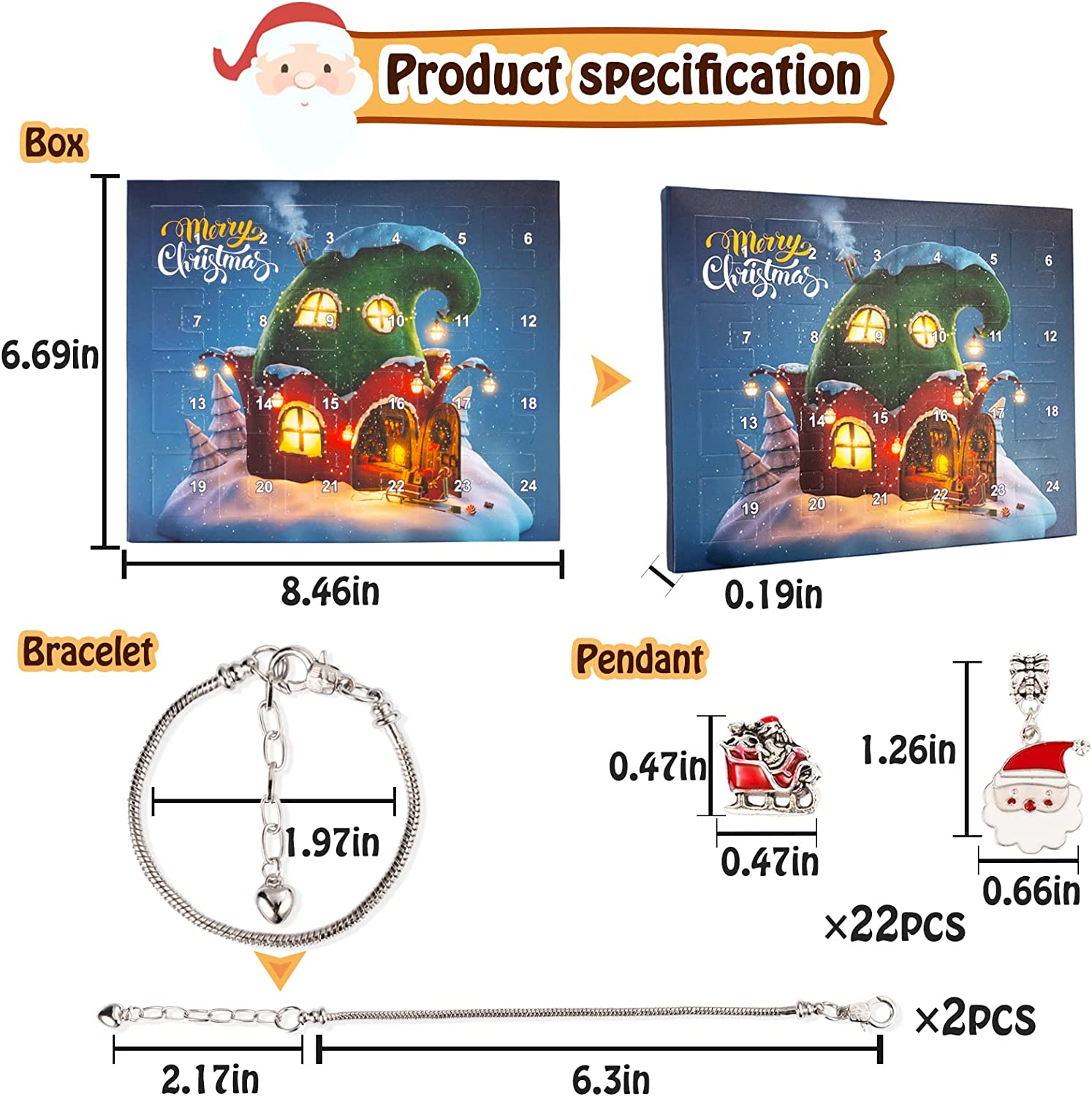 ✨PREMIUM MATERIAL✨

【Age Range】> 3 years old/Adult
【Package Include】
Advent calender include 22 DIY charm beads and 2 Bracelets. They can fully develop children's hands-on ability and imagination.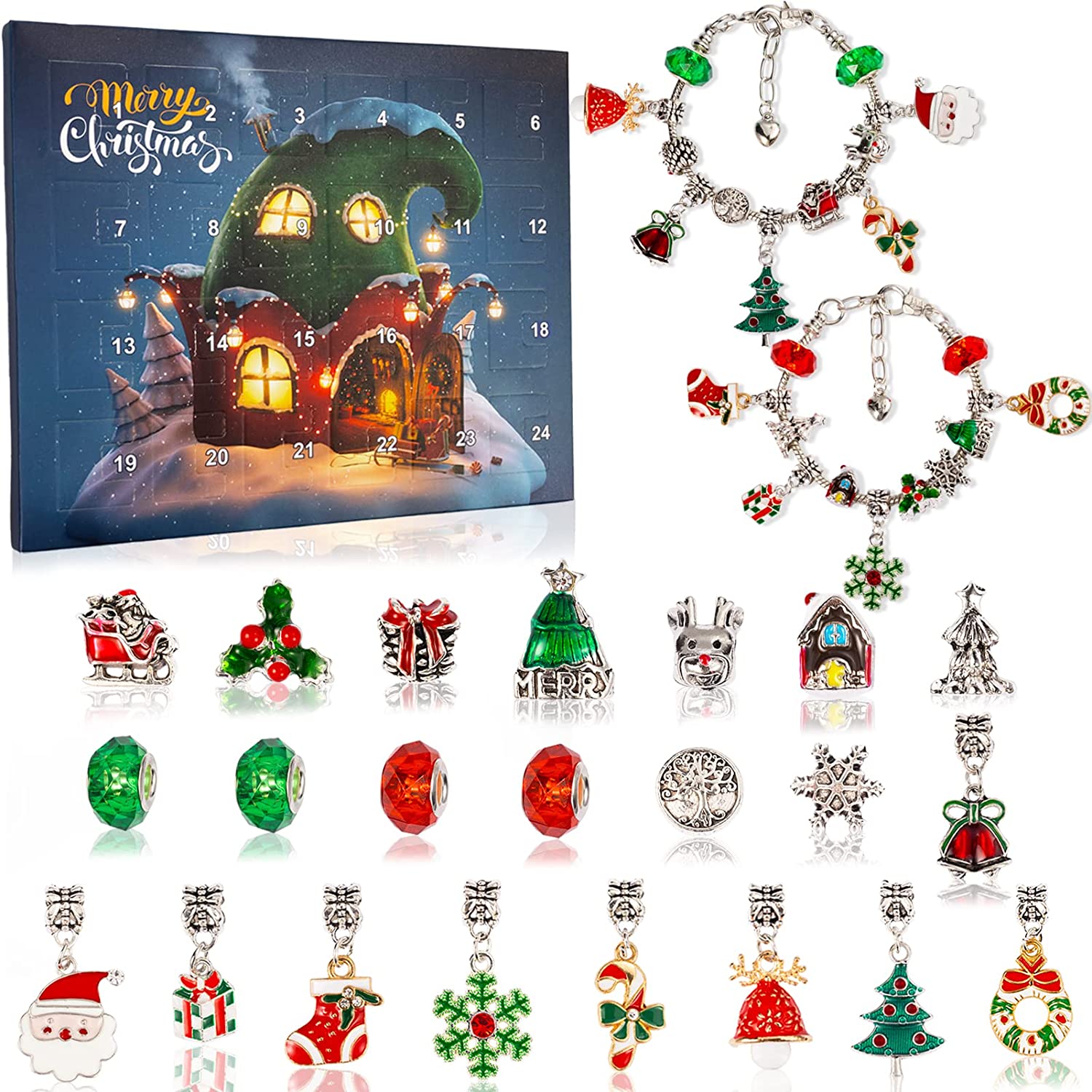 ✨Discover the Most Creative and Unique DIY Gift for Christmas ✨
By Christmas, it will have transformed into a charming bracelet. The beautiful charms are long-lasting and won't fade or lose their luster, and they come in various forms and colors that look great when hung from a bracelet.
✨Easy Installation of the Beads✨
To take off the cap, unscrew it. After you've finished stringing the beads, replace the end cap. No Hardware, No Glue, Zero Clutter! Swapping out the beads is a breeze and requires no special equipment.
✨The Bracelet Is Simple and Quick To Make At Home✨
Any young lady who enjoys constructing her jewelry would find this an excellent option. This craft idea is perfect for a fun girls' party activity. Use a variety of beads and charms to make a one-of-a-kind Christmas bracelet set that expresses your style.
✨Making Safety and High-Quality A Priority✨
Our Christmas Advent Calendars are crafted from high-quality, non-toxic electroplated aluminum alloy. The DIY Christmas charm bracelet advent calendar set is designed with rounded corners and edges to ensure the safety of even the youngest kids. Resin makes up the bulk of the material, which makes it extremely tough, lasting, and resistant to fading and damage.
Buy DIY Christmas charm bracelet advent calendar and enjoy your Christmas with something exciting!
Our Christmas bracelet set is divided into 24 sections, each corresponding to one of the 24 days leading up to Christmas. Every day in December leading up to Christmas brings a new surprise. 
As long as you didn't completely take them apart, you can put them back together again. This way, the countdown calendar can serve as a functional tool and a decorative accessory. When kids open their presents, they may find a new toy or one of their old favorites.
✨Create a New Christmas Tradition This Year✨
Open a window every day leading up to Christmas and start a new tradition by discovering a special treat each time you do.
✨100% Satisfaction Guarantee and an Unparalleled Shopping Experience✨
The Christmas spirit and joy are brought forth by the advent calendar. Feel free to get in touch if you're having any issues with our Christmas Advent Calendar, and we'll do our best to resolve them for you within the next day. We promise to make your next shopping experience with us one to remember!